Non-Motorized/Tahoe Keepers
Important Update: Invasive New Zealand mudsnails were discovered in Lake Tahoe in September, 2023. An incident team from the Tahoe Regional Planning Agency and Tahoe Resource Conservation District are responding to this new threat and coordinating with other agencies.
For information on what you can do to prevent the spread of these mudsnails, click here.
Become a Tahoe Keeper
Hand launched watercraft with electric motors like hydrofoils, require an inspection prior to launch. All non-motorized watercraft, such as kayaks and paddleboards, can be inspected for free at any Watercraft Inspection Station, but an inspection is not required to launch. We encourage all paddlers to become Tahoe Keepers and arrive Clean, Drained and Dry.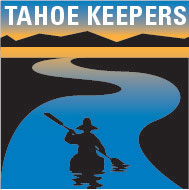 What are Tahoe Keepers?
Tahoe Keepers are a community committed to protecting Lake Tahoe's pristine watershed from the devastating effects of aquatic invasive species (AIS). Tahoe Keepers are responsible and informed paddlers who understand how to Clean, Drain and Dry their watercraft and gear prior to launching in Tahoe regional lakes.
Becoming a Tahoe Keeper is Easy and Free
Watch the video.

Take the quiz.
Once you have passed the quiz, register.
Go paddle on the Lake Tahoe Water Trail
Convertirse en un Tahoe Keeper (Spanish)
Why worry about non-motorized watercraft?
Invasive species are spread through the transport of water and debris that can collect inside and on watercraft and gear. Non-motorized watercraft, such as kayaks and paddleboards, pose a threat of spreading AIS, just like motorized watercraft. The threat has increased with the popularity of inflatable watercraft and easily transportable gear.
Fallen Leaf Lake, Echo Lakes, Spooner Lake, and most of the smaller lakes, streams and rivers in the Tahoe Region do not have some of the invasive species present in Lake Tahoe. It's up to us to keep it that way!
For more information, visit Frequently Ask Questions, or call 888-824-6267.
Join the Tahoe Keepers community on Facebook. Meet other informed paddlers, find or organize paddling events and gatherings, and share your own stories and photos.
Paddler Launch/Landing Sites and Mapped Paddle Routes
Lake Tahoe Water Trail
The Lake Tahoe Water Trail is a 72-mile water route along the shoreline that connects public launch and landing sites that include restrooms, facilities, and parking. Paddlers can plan their paddle trip and find public launch/landing sites, mapped paddle routes, water safety, and conservation tips. The website features wind and weather conditions, bilingual Day Trip Maps, and local paddle outfitters who rent gear that is already Clean, Drained and Dry.